Kia Forte: Manual Transaxle System / Manual Transaxle
Components and components location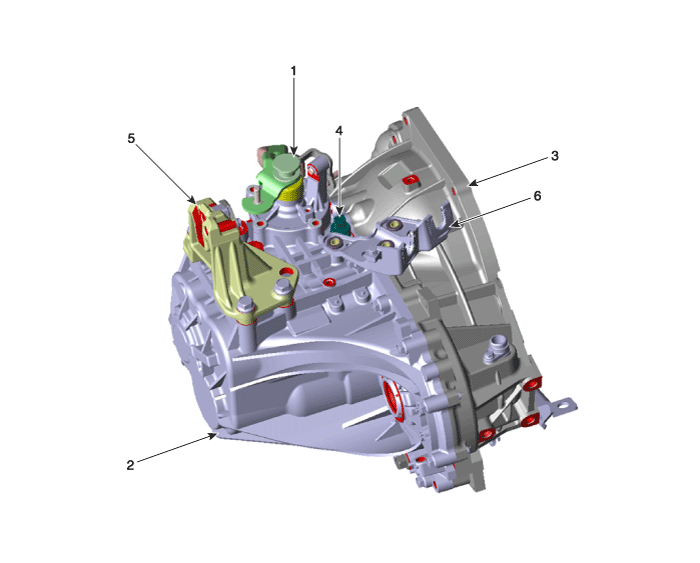 1. Control shaft complete
2. Manual transaxle case
3. Clutch housing

4. Back-up lamp switch
5. Manual transaxle support bracket
6. Control cable bracket

Repair procedures
1.

Remove the air cleaner assembly and air duct.

(Refer to Engine Mechanical Sysyem - "Air Cleaner")
2.

Remove the battery and battery tray.

(Refer to Engine Electrical System - "Battery")
| | |
| --- | --- |
| 3. | Disconnect the back up lamp switch connector (A). |
4.

Remove the control cable.

| | |
| --- | --- |
| (1) | Remove the control cable from the control shaft after removing the pins (A). |

(2)

Loosen the control cable bracket bolts (B).

Tightening torque:

14.7 - 21.6 N·m (1.5 - 2.2 kgf·m, 10.8 - 15.9 lb·ft)
5.

Remove the ground bolt (A).

Tightening torque :

9.8 - 11.8 N·m (1.0 - 1.2 kgf·m, 7.2 - 8.7 lb·ft)
| | |
| --- | --- |
| 6. | Disconnect the clutch tube (B) after removing the clip (A). |
7.

Remove the starter mounting bolt (A) and then transaxle upper mounting bolt (B).

Tightening torque:

(A) 49.0 - 63.7 N·m (5.0 - 6.5 kgf·m, 36.2 - 47.0 lb·ft)

(B) 42.2 - 53.9 N·m (4.3 - 5.5 kgf·m, 31.1 - 39.8 lb·ft)
8.

Remove the cowl top cover.

(Refer to Body - "Cowl Top Cover")
9.

Assemble the engine support fixture on the engine room.

(Refer to Special Service Tools - "Engine support fixture assembly drawing")
| | |
| --- | --- |
| 10. | Using the engine support fixture, hold the engine and transaxle assembly safely. |
| | |
| --- | --- |
| 11. | Support the transaxle safely on a jack. |
| | |
| --- | --- |
| 12. | Remove the dust cover (A). |
13.

Remove the mounting bolts (A) from the transaxle support bracket.

Tightening torque:

98.1 - 117.7 N·m (10.0 - 12.0 kgf·m, 72.3 - 86.8 lb·ft)
14.

Remove the transaxle support bracket (A).

Tightening torque:

58.9 - 78.5 N·m (6.0 - 8.0 kgf·m, 43.4 - 57.8 lb·ft)
15.

Remove the under cover.

(Refer to Engine Mechanical System - "Engine Room Under Cover")
16.

Remove the vacuum pump.

(Refer to Brake System - "Vacuum Pump")
17.

Remove the driveshaft assembly.

(Refer to Driveshaft and axle - "Front Driveshaft")
18.

Remove the roll rod bracket (C) after loosening the bolt (A), (B).

Tightening torque:

(A) 49.0 - 63.7 N·m (5.0 - 6.5 kgf·m, 36.2 - 47.0 lb·ft)

(B) 107.9 - 127.5 N·m (11.0 - 13.0 kgf·m, 79.6 - 94.1 lb·ft)
19.

Remove the roll rod support bracket (A).

Tightening torque:

49.0 - 68.6 N·m (5.0 - 7.0 kgf·m, 36.2 - 50.6 lb·ft)
20.

Remove the intercooler inlet hose & pipe (A).

Tightening torque:

18.6 - 23.5 N·m (1.9 - 2.4 kgf·m, 13.7 - 17.4 lb·ft)
21.

Loosen the lower mounting bolts (A, B) of lower part of the transaxle and then removing the transaxle assembly by supporting it with a jack.

Tightening torque:

(A) 42.2 - 48.1 N·m (4.3 - 4.9 kgf·m, 31.1 - 35.4 lb·ft)

(B) 42.2 - 53.9 N·m (4.3 - 5.5 kgf·m, 31.1 - 39.8 lb·ft)

Be careful not to damage other system or parts near by when removing the engine and transaxle assembly.
In case of oil leakage due to damaged differential oil seal, replace the oil seal with a new one by using special tool (09453-2F300).
| | |
| --- | --- |
| 1. | Install in the reverse order of removal. |
2.

Perform bleeding air procedure in concentric slave cylinder after pouring the brake fluid.

(Refer to Clutch System - "Concentric Slave Cylinder Assembly")
Copyright © www.kiforte.com 2017-2022