Kia Forte: Body Electrical System / Integrated Memory Seat (IMS) System
Specifications
Memory Power Seat Unit
| | |
| --- | --- |
| Item | Specifications |
| Rated voltage | DC 12 V |
| Operating voltage | DC 9 - 16 V |
| Operating temperature range | -22 to 167°F (-30 to 75°C) |
| Dark current | Max. 1.0 mA |
Memory Power Seat Switch
| | |
| --- | --- |
| Item | Specifications |
| Rated voltage | DC 12 V |
| Operating temperature range | -22 to 176°F (-30 to 80°C) |
Schematic diagrams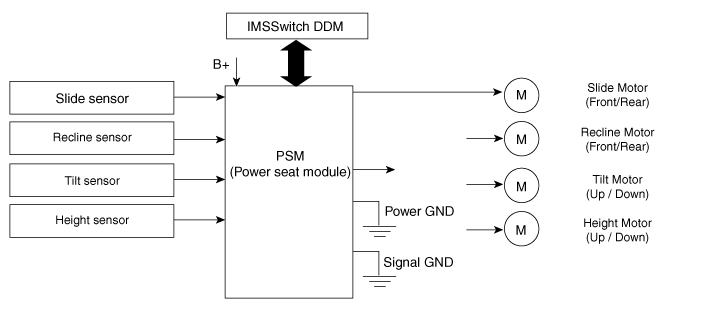 Description and operation
The optimal seat position set by the driver is memorized into the power seat unit by using IMS switch. In case of the position change, the seat can restore its preset position by IMS switch.
It has safety functions of restoring process prohibition during driving and of emergency stop of the linked motion.
The main functions are as follows.
1.

Manual operation : Motor control with the seat manual switch.

| | |
| --- | --- |
| (1) | The position of the seat is changed by operating the motor when the signal is input with manual switch for the seat (Slide, recline, front tilt, rear height adjusting cushion extension). |
2.

Memory function : Available for memorizing/reproducing the data for two persons with IMS switch.

| | |
| --- | --- |
| (1) | The memorized motion for the optimal seat position set by the driver based on the CAN data with 『DDM → IMS module』 with IMS switch. |

| | |
| --- | --- |
| (2) | Reproduction by the CAN data received from DDM during IMS switch controlling. |
3.

Motion linked to getting on/off

| | |
| --- | --- |
| (1) | This function links motion depending on the state of ON/OFF the engine. |

| | |
| --- | --- |
| (2) | Use of IMS CAN data communication. |

| | |
| --- | --- |
| (3) | Condition for operating getting on : When the electric power is in ACC. |