Kia Forte: Driving your vehicle / Dual Clutch Transmission (DCT)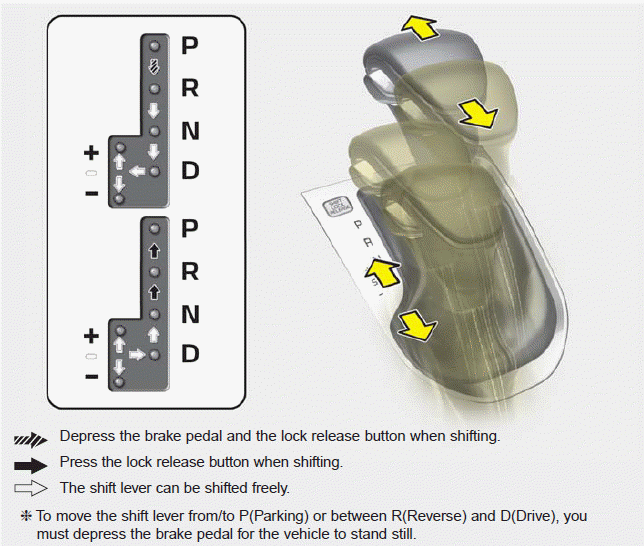 Dual clutch transmission operation
The dual clutch transmission has 7 forward speeds and one reverse speed.
The individual speeds are selected automatically in the D (Drive) position.
WARNING
To reduce the risk of serious injury or death:
ALWAYS check the surrounding areas near your vehicle for people, especially children, before shifting a vehicle into D (Drive) or R (Reverse).
Before leaving the driver's seat, always make sure the shift lever is in the P (Park) position, then set the parking brake, and place the ignition switch in the LOCK/OFF position. Unexpected and sudden vehicle movement can occur if these precautions are not followed.
Do not use engine braking (shifting from a high gear to lower gear) rapidly on slippery roads. The vehicle may slip causing an accident.
• The Dual Clutch Transmission gives the driving feel of a manual transmission, yet provides the ease of a fully automatic transmission. Unlike a traditional automatic transmission, the gear shifting can be felt (and heard) on the dual clutch transmission
- Think of it as an automatically shifting manual transmission.
- Shift into Drive mode and get fully automatic shifting, similar to a conventional automatic transmission.
• Dual clutch transmission adopts a dry-type dual clutch, which is different from the torque converter of a automatic transmission, and shows better acceleration performance during driving, but the initial launch might be little bit slower than an Automatic Transmission.
• The dry-type clutch transfers torque and provides a direct driving feeling which may feel different from a conventional automatic transmission with a torque converter.This may be more noticeable when starting from a stop or low vehicle speed.
• When rapidly accelerating at low vehicle speed, the engine may rev at a higher rpm depending on vehicle drive condition.
• For a smooth launching uphill, press down the accelerator pedal smoothly depending on the current conditions.
• If you release your foot from the accelerator pedal at low vehicle speed, you may feel strong engine braking, which is similar to a manual transmission.
• When driving downhill, you may use Sports Mode to downshift to a lower gear in order to control your speed without using the brake pedal excessively.
• When you turn the engine on and off, you may hear clicking sounds as the system goes through a self test. This is a normal sound for the Dual Clutch Transmission.
WARNING
In the case of a transmission failure, the vehicle may not move and the position indicator (D, R) will blink on the cluster. In this situation, have the system checked by a professional workshop. Kia recommends to visit an authorized Kia dealer/service partner.