Kia Forte: Interior features / USB charger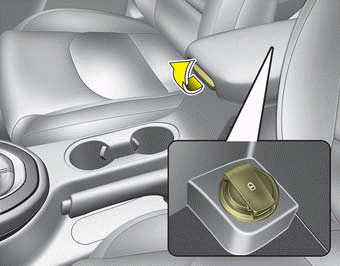 The USB car charger allows drivers to charge their digital devices their digital devices such as smartphones and tablets. Connect the device to the USB port using a manufacturer certified cable to begin charging.
Power is supplied to the USB car charger in either the ACC state or with the ignition on. In order to prevent battery discharge, only connect digital devices to the USB port with the ignition on. Use the display screen of the connected device to check its charging progress. Your smartphone or tablet may heat up while charging.
This does not impact life or function of the device. For safety reasons, charging will stop if the battery heats up to temperatures that will negatively affect the device. Not all devices are supported by the USB charger and may require additional adapters.
CAUTION
- Use the USB car charger with the ignition on. Otherwise, vehicle battery discharge may occur.
- Use a manufacturer certified USB cable compatible with the digital device to be charged..
- Make sure that any foreign object, drinks, and water do not come into contact with the USB car charger.Water or foreign objects can damage the USB charger..
- Do not connect devices with current consumption exceeding 2.1A..
- Do not connect devices that generate excessive electromagnetic noise. Doing so may interrupt the vehicle audio/AV electronic devices.
- Ensure the devices are correctly connected, failing to do so may cause serious damage to the device. Please note that damages due to incorrect usage are not covered by warranty service.