Kia Forte: Features of your vehicle / Wipers and washers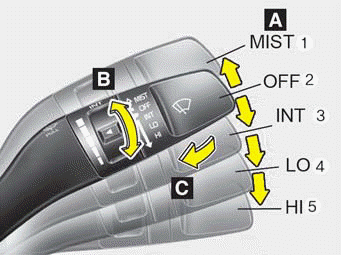 A : Wiper speed control (front)
· MIST – Single wipe
· OFF – Off
· INT – Intermittent wipe
· LO – Low wiper speed
· HI – High wiper speed
B : Intermittent control wipe time adjustment
C :Wash with brief wipes (front)*
Windshield wipers
Operates as follows when the ignition switch is turned ON.
MIST : For a single wiping cycle, move the lever to this (MIST) position and release it. The wipers will operate continuously if the lever is held in this position.
OFF : Wiper is not in operation
INT : Wiper operates intermittently at the same wiping intervals. Use this mode in light rain or mist. To vary the speed setting, turn the speed control knob.
LO : Normal wiper speed
HI : Fast wiper speed
✽ NOTICE
If there is heavy accumulation of snow or ice on the windshield, defrost the windshield for about 10 minutes, or until the snow and/or ice is removed, before using the windshield wipers in order to ensure proper operation. If you do not remove the snow and/or ice before using the wiper and washer, the wiper and washer system may be damaged.