Kia Forte: Interior features / Floor mat anchor (s)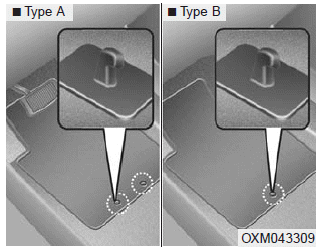 When using a floor mat on the front floor carpet, make sure it attaches to the floor mat anchor(s) in your vehicle. This keeps the floor mat from sliding forward.
WARNING - After market floor mat
Do not install aftermarket floor mats that are not capable of being securely attached to the vehicle's floor mat anchors. Unsecured floor mats can interfere with pedal operation.
CAUTION
Ensure to remove any protective film attached to the carpet before attaching a floor mat to the front floor carpet. Otherwise, the floor mat may move freely on the protective film and it could result in unintentional braking or accelerating.
Since the volatile organic compound may be continuously generated from various kinds of protective film attached for the protection of the interior material, be sure to remove it.
The following must be observed when installing ANY floor mat to the vehicle.
Ensure that the floor mats are securely attached to the vehicle's floor mat anchor(s) before driving the vehicle.
Do not use ANY floor mat that cannot be firmly attached to the vehicle's floor mat anchors.
Do not stack floor mats on top of one another (e.g. all-weather rubber mat on top of a carpeted floor mat). Only a single floor mat should be installed in each position.
✽ NOTICE
Your vehicle was manufactured with driver's side floor mat anchors that are designed to securely hold the floor mat in place. To avoid any interference with pedal operation, Kia recommends that only the Kia floor mat designed for use in your vehicle be installed.