Kia Forte: Audio system / Antenna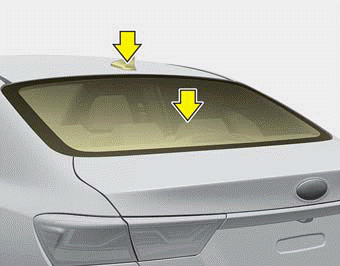 Glass antenna
Your vehicle uses a glass antenna to receive both AM and FM signals.
Shark fin antenna (if equipped)
The shark fin antenna will receive transmitted data.
CAUTION
Do not clean the inside of the rear window glass or quarter glass with a cleaner or use a scraper to remove any foreign deposits as this may cause damage to the antenna elements.
Avoid adding any metallic coating such as Ni, Cd, and so on. These can interfere with AM/FM reception.
To prevent damage to the rear glass antenna, never use sharp instruments or window cleaner containing abrasives to clean the window. Clean the inside surface of the rear glass window with a piece of soft cloth.
When putting a sticker on the inside surface of the rear window, be careful not to damage the rear glass antenna.
Do not put sharp instruments nearby the rear glass antenna.
A tinted rear window may affect the proper functioning of the antenna.